A DAY IN CAPRI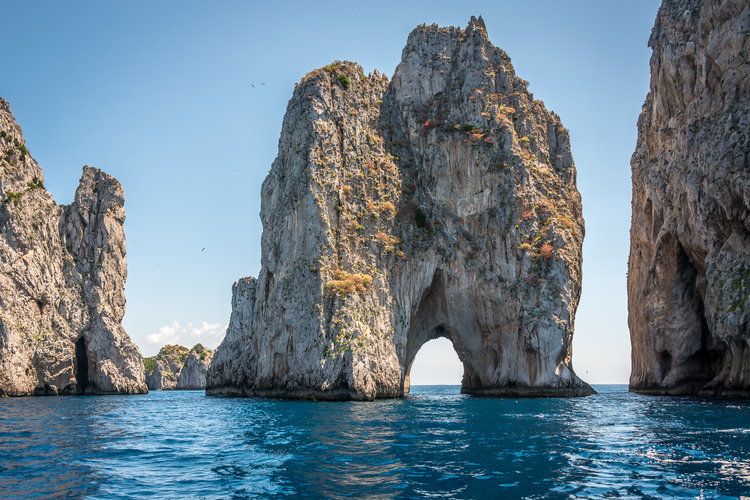 Can you get used to beauty? Maybe sometimes, then you must see Capri with its splendor that makes this island unique. Then you'll realise that it's impossible or, at least, very difficult!
Here is our guide for those who have a day or even just a few hours.
WHAT TO SEE
Capri is a beguilling island with lots of caves, coves and steep cliffs overlooking the crystal blue waters of the Mediterranean Sea. If you've only got a couple of hours to visit Capri and want to take that classic (always charming) shot of the sea in front of the Faraglioni before you leave, move towards the panoramic Gardens of Augustus: a gorgeous botanic garden with Mediterranean plants. Another place absolutely not to miss is Villa San Michele, a house that belonged to a Swedish physician who collected Roman, Etruscan and Egyptian precious antiques, now turned into museum. Touch the Egypthian Sphinx with your left hand and make a wish looking at the sea, your wish will come true.
BEACHES
The most famous sight of Capri is unquestionably the Grotta Azzurra with its dazzling blue sea and silver reflections. At least once in lifetime you should float on this stunning water!
Among the most beautiful beaches in the island we suggest La Fontelina, a beach complex so close to the Faraglioni, with a breathtaking view you'll fall in love with. The Marina Piccola bay is the best beach spot to take a dip even in winter, as it's protected by wind.
At the famous La Canzone del Mare you'll breathe the air of Capri dolce vita. Here you can relax in the amazing infinity pool overlooking the sea!
FOOD & RESTAURANTS
Every terrace, street or garden in Capri are perfect for dinner in enchanting surroundings. At Paolino tables are set in the middle of 130 lemon trees. At Michel'angelo you can enjoy cooking lessons with a local chef and learn how to cook a traditional Caprese made from genuine ingredients.
If you want to get a great meal at an affordable price stop by Da Aldo and try the panino-caprese, a sandwich with tomato, oregano and buffalo mozzarella. Wanna eat a unique ice cream? Try the delicious "Caprilù" flavor at Buonocore gelateria.
SHOPPING
Even shopping experience is very special in Capri.
You wish to bring home a handmade souvenir? At L'Oasi Ceramiche you'll find lots of colorful and original artisans ceramics. If want to wear a piece of the island history and get a touch of Jaqueline Kennedy Onassis' charm, you should try on Canfora sandals made to measure.
If you don't mind the idea of an edible souvenir, a bottle of limoncello, the liqueur made from local lemons, is perfect to bring home with you the flavor of Capri!
CELEBRITY SPOTTING
Capri is famed throughout the world for its win over artists, intellectuals, members of the aristocracy and the Hollywood jet set.
To run into international stars make the classic evening "passeggiata", a route that runs from the Piazzetta to the Quisisana, and then Via Camerelle.
If you want to have a front row view of the passeggiata and spot a celebrity, reserve a table at the Quisisana outside terrace.