RELAX BODY AND MIND WITH THALASSOTHERAPY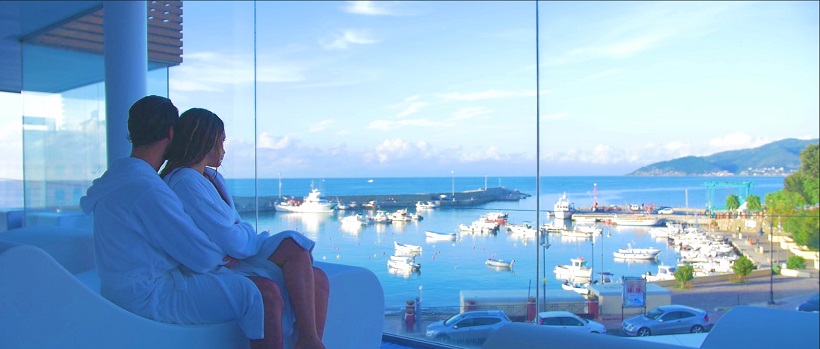 Holidays do not just mean beach, sea and excursions, but also complete relax: even travelling could be exhausting, and more and more travelers demand a well deserved relaxing break during their stay. That's why we want to suggest you where to stop to find your calm and peace again! There's no excuse for not trying a full day experience at one of the most beautiful spas in Italy:                                              the Approdo Thalasso Spa, in San Marco di Castellabate.
The term "thalassotherapy" refers to a variety of treatments involving sea water and marine minerals such as magnesium, potassium, calcium sulphates and sodium which are absorbed through the skin. These boost the body's blood and lymph circulation, accelerating the metabolism, promoting the elimination of toxins and relaxing the mind.
Thalassotherapy  in a saltwater pool while powerful water jets pummel various parts of the body, eliminating the tension from the back and shoulders.
What does it involve?
Typically, this  involve immersion in a warm sea water bath while being massaged by pressurised jets. The sea water is maintained at body temperature, which is believed to allow mineral ions to pass into the blood and toxins to leave it.
This is often followed by a complementary treatment, which could be anything from a seaweed wrap to a salt scrub or mudpack facial.
What are the potential benefits?
Thalassotherapy is often used purely as a detox: as the metabolism is improved, this can lead to weigh loss and a reduction in cellulite, too. But it is said to have effective medical benefits that you can read below.
Trauma
As the body is ten times lighter in the sea water it can allow one to gain two months in healing time for fractures and prevents all the problems given by immobilisation such as swelling and fatigue.
Post Surgery
After surgery, when you could be in bed for up to 15 days, you may feel week and tired.  A Thalasso stay will bring back all the minerals to the bones and muscles and also help with early rehabilitation.
Pain Relief (Back Ache and Arthritis) 
In the Thalasso pool your weight is reduced to 10% allowing better movement of the joints (a gain of 15o of mobilisation).  The muscular hydro massage added to the absorption of the nutrients and minerals will provide pain relief.
Athletes and Sports Professionals
Bringing to the body the necessary nutrients and minerals to re-energise and easing movement as well as releasing muscular spasm, Thalasso will increase the performance of any sportsperson.  Thalassotherapy will also be useful for rehabilitation of some specific sports injuries.
Fatigue and Stress
Thalasso is perfect for people who lead busy lives and might be over exceeding their physical and mental abilities.
Slimming
Thalasso can allow you to loose at least 4 kilos in one week and can encourage new habits for a healthier lifestyle.  Improvements in the thyroid function means that your metabolism increases and helps with the breakdown of fat, as well as this Thalasso reduces oedema and eliminates toxins and so can help you to regain your muscle tone.
Post Natal
Thalasso can be used two months after giving birth.  Most new mums suffer from fatigue, weight, muscular and circulatory problems.  Thalassotherapy is the solution to re-energise, slim, tone the muscles and to increase blood supply around the body.
Rheumatism or Rheumatoid Arthritis
This is the aching commonly found in joints, such as hips, knees, spine etc. Seawater provides cartilage with the minerals or nutrients that are missing such as sulphur and iodine.